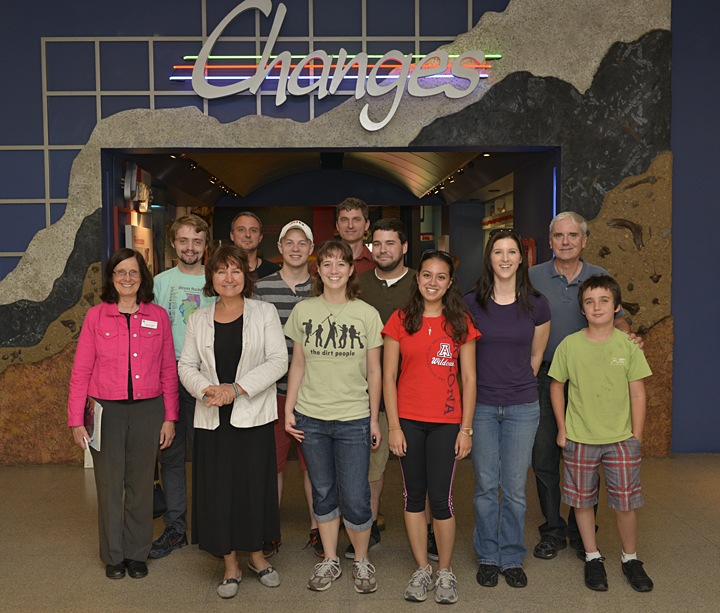 The course had a successful first run at the Illinois State Museum, May 28 – June 1, 2013. Schools represented by the participants included Wheaton College, Illinois State University, Olivet Nazarene University, Bradley University, and University of Arizona. The course comprised daily lectures and hands-on activities, with a mid-week field trip for PowerProbe coring of surficial Quaternary deposits and increment coring of trees.
In accord with the Quaternary theme, course topics covered geologic and human history of the region, fauna and extinctions, microfossils and pollen, wood identification and structure/function, wood macrofossils and dendrochronology, stable isotopes, and Quaternary dating (particularly radiocarbon), as presented by Irina Panyushkina and Steve Leavitt (University of Arizona), Chris Widga, Michael Wiant, Pietra Mueller and Bonnie Styles (Illinois State Museum), Alex Wiedenhoeft (USDA Forest Product Lab), Brandon Curry (Illinois Geological Survey), and Dennis Campbell (Lincoln College). Student travel to/from Springfield, lodging and food was supported by NSF grant P2C2-1003483.
We plan to offer the course again in early summer 2014 and we welcome preliminary inquiries and interest. One of the particularly difficult aspects of organizing the course was the highly varied dates of end of school year among colleges in the region, so feedback on those limitations is of great interest to us.